BRING THE CINEMA STRAIGHT TO YOUR HOME!
 Complete your home entertainment systems with a projector that connects to all of your devices such as phones, laptops, and gaming consoles yet compact enough to fit perfectly in your bag or purse. Everyone has a TV, Smartphone, and Computer but who has a projector? Very few! It never was so easy and fun to watch your favorite films anytime and anywhere, but now it is!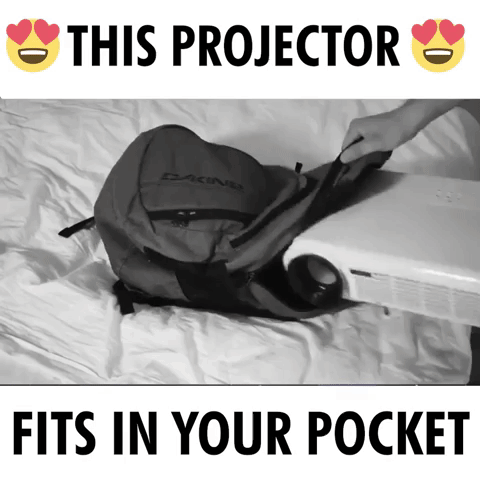 You can take it anywhere you go - cute design, super-sized, this item would be your best friend on every journey. You need to have it!
Finally, a tiny, portable projector that can turn your living room or any surface into a full-blown home theatre with an image size of up to 220 inches (5.5 meters)  
Immerse yourself in lifelike image sizes. Perfect for movies and video games!
AMAZE YOUR FRIENDS, FAMILY, AND COLLEAGUES WITH THE ONE OF THE WORLD'S SMALLEST PROJECTORS ON THE MARKET!
WORKS WITH JUST ABOUT ANY DEVICE:

Look at the many functions this pocket projector brings to your home! The projector is loaded with tons of great features! You can use it with almost any device, display images from your laptop, TV, game console, and even from your iPhone with a Lightning-To-HDMI Adapter.

SHARE IMPRESSIVE VIDEOS, PHOTOS, MOVIES, GAMES OR EVEN BUSINESS PRESENTATIONS ANYWHERE YOU GO!
Without the annoying problems like video jitters, color problems or lamp replacements that older projectors had.
This projector is ideal for home theatre, movies at home, or even on an outdoor camping trip! The portable projector can be powered from just a power bank, so you literally can use it anywhere!
   FEATURES:
True Theater Experience (Screen Ratio 4:3)
Compact & Portable - 5 x 3.4 x 1.8 inches and weighs in at 5 ounces
Projects a native: 1080x1720 image (Older version has 320x240)
Supports up to 28.7 million different color variations for clearer images
Projection distance: 0.8-3.5 meters (for best performance)
Bulb that never dies (50,000 hours of lamp life) Upgraded from 30,000 hrs
Built-in speaker (you can also use an external speaker)
Works with any device (HDMI, USB, AV cord, 3.5mm jack, Micro SD, and TF card connections)
Can be powered either by being plugged into a wall or through a portable charger!
   WARM TIPS:
Lightning to HDMI adapter cable or an HDMI WiFi display adapter is needed if connecting to an iPhone or an iPad;

An MHL cable is needed if you want to connect to your Android device.

Recommended to use in a dark environment or at night.

Change the screen resolution to 800*600 pixels when connecting to a laptop or a PC for best performance.
PACKAGE INCLUDES:
LumiPal 2.0 Ultra Portable Pocket Projector
Power Adapter
3.5mm to RCA AV cable (HDMI cable not included)
Remote Control
User Instructions
Note: Please choose the correct plug for your region when ordering LumiPal 2.0 Ultra Portable Pocket Projector.